| | |
| --- | --- |
| Smart Cleaner MPO (Cleans MPO/MTP® flat and/or 8º connectors w/ or w/o guide pins) | Model: OCC-MPO |
Applications:
• Cleans connectors on jumpers and in adapters
• Cleans a wide variety on connector types: MPO/MTP® flat and/or 8º connectors w/ or w/o guide pins
• Cleans MPO cassette module
• Cleans MPO trunk assembly
• Cleans QSFP+ module
• Cleans CFP module

Description
Releated Products
Instantly clean MPO connectors with a simple push
Many troubles in optical communications equipment are caused by contamination on the optical connector end face.
Smart Cleaner MPO, employs microfibers designed specifically for optical connectors to remove even the smallest contamination not visible to the naked eye. Please take advantage of the improvements you will receive in optical construction working efficiency and in communication services reliability.
FeaturesOne-push operation with no special skills required
The specially designed microfibers remove contaminants by an easy push operation without damaging the delicate optical fiber core.
Compact design with workability in mind
Brings you the possibility of over 600 cleanings in a very portable compact design that excels in workability.
Compatibility for both plugs and adaptors in one unit
In addition of optical port adaptors, attaching the cap (included) allows you to also easily clean plugs too.
Complies with RoHS Directives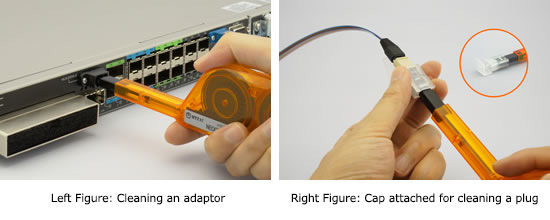 Specifications:
| | |
| --- | --- |
| Product name | Smart Cleaner MPO |
| Part No. | SCK-SS-MPO |
| Compatible Connetors | MPO Connector, MTP Connector |
| Compatible End-face | Flat and 8 degree slant (compatible with or without guide pins) |
| Dimension | Main Body: L197mm × W15mm × H51mm With Cap Attached: L208mm × W17mm × H51mm |
| Standard Usages | Over 600 times |
Cleaning Performance