SYOPTEK has done fiber optic tool kit assembly for the fiber optic industry for over 11 years, providing kits that meet varying needs of customers, and withstand the rigors of field fiber optic application use.



View our stock Fiber Optic Tool Kit ready for purchase!

In addition to the range of standard fiber optic tool kit, SYOPTEK has full capabilities to build a custom fiber optic tool kit to the exact requirements of our customers.

Our custom fiber optic tool kit feature:

✓ Private logo/label
✓ Heavy duty carrying case
✓ Easy ordering with one single P/N tool list
✓ Rapid fiber optic tools replacement available for the kit

How to build your own custom tools kit:

1.Select a list of available tools you want to include
2.Select from a variety of carry cases
3.Send it back together with label to SYOPTEK
4.SYOPTEK represent will contact you to discuss storage options and recommendations
5.SYOPTEK will design the tool kit layout and present it for approval.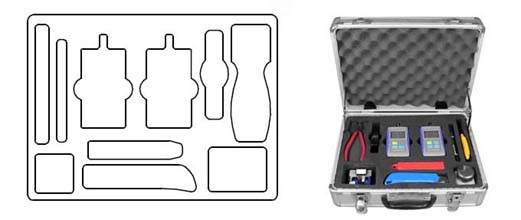 Our sales engineers can guide you through the custom design process to build a tool kit that exceeds your expectations and meets your every requirement.

Contact Us for a free consultation with your kit requirements and put the SYOPTEK fiber optic tool kit advantage to work for you!